At AIMS Hospital, the Department of Urology offers comprehensive diagnostic and treatment services for urological conditions like kidney stones, male infertility, and cancers. Our state-of-the-art urology unit offers minimally invasive, scarless options for urologic procedures and medical management of kidney disease.
The department houses of the latest ESWL (Lithotripsy) machine that is used to treat stones. Our full-time specialist surgeons and oncologists cooperate in the treatment of urological cancers and offer treatment using minimally invasive techniques.

Highlights:
Comprehensive Uro-oncology services
Upper and Lower Tract Endourology
Andrology
Urolithiasis – Medical and Surgical Management
"Get rid of Kidney Stones swiftly, with no traces"
No Matter What Is The Size, Location, or Hardness of The Stone, & how enlarged is the prostate, We Have Brought the Cutting Edge Technology of Holmium Lasers for Kidney Stone & prostate.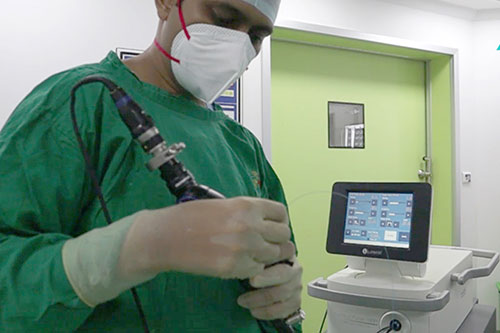 HOLEP (Holmium Laser enucleation of the prostate)
Complete removal of the prostate in a single sitting
Treatment of choice for removal of enlarged prostate even more than 80 gms
Recommended for patients on blood thinner medicines
Faster post-op recovery
Benefits of Holmium lasers
Best Stone Clearance Rate In Single Sitting (Even the hardest stones which are not Fragmented by conventional lithotripsy)
Targeted Kidney Stone Treatment
Minimally Invasive Surgery
Shorter Stay & Quicker Recovery
Less Pain & Less Bleeding
Safe for kidneys & urinary tract
No incision on the skin
Percutaneous nephrolithotomy (PCNL)
Ureteroscopy
Flexible ureteroscopy and laser lithotripsy
Transurethral Resection of the Prostate (TURP)
Transurethral Resection of Bladder Tumour (TURBT)
Endopyelotomy and retrograde endopyelotomy
Keyhole surgery to remove and reconstruct urinary organs avoiding pain and long bed rest associated with open surgery. Nephrectomy, radical and partial nephrectomy, stone extraction, correction of hydronephrosis due to PUJ obstruction, and re-implantation of the ureters are performed.
Expertise for the surgical reconstruction of congenital defects of the urinary tract either by open surgery or laparoscopy is available. Hypospadias, vesicoureteric reflux, hydronephrosis, stone disease, urethral valves, etc. are routinely corrected at AIMS Hospital.
Stones in the kidney, ureter, bladder, common diseases of the urethra (stricture), prostate (cancer, enlargement), and bladder are routinely treated. All the advanced treatment options for stones in the kidney and other parts of the urinary tract are available. The latest ESWL machine is available for the most effective crushing of stones without surgery.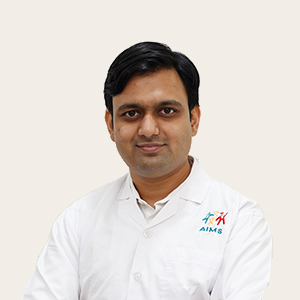 DR. VIVEK JADHAO
UROLOGIST
M.S.(General Surgery), M.Ch (Urology)

View details Appointment