The Dermatology Department provides comprehensive diagnostics and treatments for healthy skincare. The department offers a wide variety of services in clinical and cosmetic dermatology. Dermatologists are experts in successfully treating all forms of skin-related disfigurements including melanomas, skin cancers, acne, and various other problems. The team renders excellent diagnoses and management of conditions affecting hair and nails. The proficient approach of the dermatologists at AIMS Hospitalensures that the patients observe superior outcomes and experience the gift of glowing skin.
The department delivers the most advanced and superior dermatology therapies and treatments along with quality and compassionate care to the patients. We also deliver dermatology consultations for inpatients in order to provide expert counseling sessions and superior quality care for a speedy and scar-less recovery.
For Cosmetic Dermatology, we perform a various list of cosmetology-oriented procedures like Removal of Warts, Skin Tag, Corns, Calluses, callosities, to name a few.
Other surgical techniques like Punch excision and even Shave excision are carried out here at AIMS. We also have a state-of-the-art Skincare Derma Roller to treat Acne Scars.
The Aesthetic Clinic at AIMS Hospital offers a complete range of medical and surgical aesthetic solutions for hair, skin, and body all under a single roof at affordable prices. We provide comprehensive cosmetic care under the supervision of trained and experienced Dermatologists, Cosmetic surgeons, Physiotherapists, and diet counselors. Our scientific approach and widely researched treatment modalities are safe, effective, and ideal for all Indian skin types.
As your skin submits to the inevitable stress of daily life and sun damage, we help you to protect and rediscover the youthful radiance that you rightfully deserve.
PRP is a blood plasma that has been enriched with platelets. PRP Therapy harnesses the growth and healing factors from your own blood to help your body grow new and healthy cells.

a. Platelet-Rich Plasma Therapy for Hair Regeneration
Male and Female pattern hair loss is a genetic problem that can leave you feeling helpless. Options like prescription drugs are often partially effective and carry the potential for unwanted side effects. Surgical hair restoration can be expensive and does not treat the underlying medical problems.

How does PRP Works?
Platelet-Rich Plasma (PRP) is the advanced, non-surgical hair regeneration treatment that uses growth factors from your blood to repair and stimulate damaged or miniaturized hair follicles in order to trigger robust hair growth.

PRP for Hair Regrowth:
Increases blood supply to the follicle
Increases shaft size (thickness)
Triggers and maintains the growth phase
Controls hair growth cycle
Decreases hair loss

Who are Ideal candidates for PRP?
Men and Women with natural hair thinning or hair loss.
People who are in the early stages of hair thinning.

Who are not Ideal candidates for PRP?
Completely bald persons are not the ideal candidates for PRP
Platelets dysfunctions, syndromes, chronic infections, liver diseases & metabolic diseases.
Chain smokers & heavy drinkers

Who Is It For?
PRP Treatment is recommended for:
Androgenic Alopecia: the most common form of generic hair loss in both men and women.
Alopecia Areata: an autoimmune disease characterized by spots of complete hair loss
Telogen Effluvium: a reversible but sudden and excessive form of hair loss after a period of major stress.

Is this a Cure for Baldness?
PRP is not a cure for baldness (Androgenic Alopecia). The genetic medical problem will always remain. However, there is evidence that regular treatments can significantly slow down the effects of Androgenic Alopecia and works to increase hair density.

b. PRP in Orthopedics Sports Medicine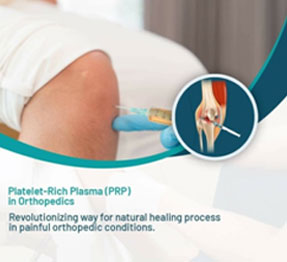 Patients with special orthopedic conditions can now get relief from a safe, non-surgical procedure called Platelet-Rich Plasma (PRP) Therapy. PRP Therapy has been used to treat many different orthopedic injuries and degenerative conditions.
Chronic Tendon Injuries: PRP is effective in the treatment of chronic tendon injuries, especially tennis elbow, a very common injury of the tendons on the outside of the elbow.
Acute Ligament and Muscle Injuries: PRP Therapy helps in the treatment of acute sports injuries such as ligament and muscle injuries. It has been used to treat professional athletes with common sports injuries like pulled hamstring muscles in the thigh and knee sprains.
Knee Arthritis: PRP helps in treating low to moderate grade knee osteoarthritis.

How PRP Therapy heals Orthopedic Injuries:
When you incur an injury, your body sends platelets to the site of injury to facilitate the healing process.PRP therapy makes use of the clotting component found in your blood – the platelet. However, platelets are not just for clotting per se. They also contain growth factors that are essential for the healing of injuries and the regrowth of the damaged area.

How would it work for you?
It utilizes platelets from the patient's own blood to rebuild damaged blood tissue by taking a sample of your blood. This therapy helps to speed up the healing process of the patient. PRP therapy is absolutely safe when performed by a skilled physician in a sterilized environment.

Conditions treated by PRP Therapy:
Platelet-Rich Plasma is helpful in painful conditions like-
Elbow- Tennis Elbow/Golfers Elbow
Shoulder- Supraspinatus tendinitis
Hip- Trochanteric bursitis
Knee- Ligament/ Meniscus/ Cartilage Injury
Ankle & Heel- Plantar Fasciitis

Benefits of PRP Therapy:
One key benefit of PRP therapy is that it helps with pain relief. It helps patients to ease their reliance on prescription painkillers or anti-inflammatories, which mean PRP therapy, can also be used in pain management therapies.
In addition, PRP therapy can also help delay or eliminate the need for joint replacement surgery. If the injury is healed or the pain is greatly reduced, surgery is usually no longer necessary.

Advantages:
Derived from the patient's own blood so no chances of cross-infection/ reaction
OPD Care procedure
Promotes healing, rather than just decreasing pain
The range of procedures done in Dermatology by Radiofrequency and Electrocautery machine:
Skin Biopsy
Molluscumcontagiosum
Mole
Intralesional therapy
Wart Removal
Skin Tag
DPN
Milia
Acne
Tzanck smear

Chemical Peels
Face
Hands
Feet
Arms
Upper back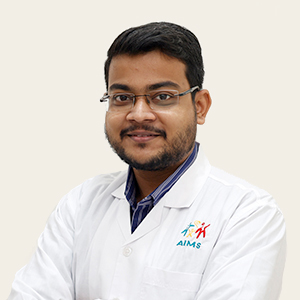 DR. VAIBHAV KALAMBE
DERMATOLOGIST
M.D.(Dermatology)

View details Appointment