Bone and The joint Replacement department specializes in arthroscopy and is responsible for treating sports and spinal injuries, trauma recovery, and complicated joint replacement involving hip, knee, elbow, and shoulder. Such surgeries are skillfully performed with superior quality care and the team ensures that the patient acquires maximum bone and joint health under the expert supervision of the team doctors. With the help of an effective and efficient leading orthopedic team of doctors, AIMS Hospital delivers accurate diagnosis and treatments in all major and minor osteoarthritic issues, an extendable prosthesis for the patients, periarticular injury management, pathological and traumatic extremity fracture fixation, and Total Bone replacements. The treatment procedures performed in the department employ advanced technology for bone restructuring and minimally invasive surgeries ensuring speedy trauma recovery. The team focuses on successful outcomes by assuring fast patient recovery, scar-less surgery with minimal blood loss, and fewer follow-ups.
The Department of Orthopaedics Hand & Upper Limb Surgery at AIMS Hospital delivers a broad spectrum of specialty services related to bones, joints, and muscles. The team is an expert in guiding the patients about superior management and treatment options for their problems. The services offered by the department of hand and limb surgery includes some orthopedic problems as mentioned:
Arthritis of the hand, thumb and wrist
Dislocation or fracture of the distal ulna, distal radius, hand, and wrist
Radial tunnel syndrome (nerve entrapment), Cubital tunnel syndrome, and Carpal tunnel syndrome
Nerve, tendon, and blood vessel injuries (replantation surgery)
Hand problems which are caused by cerebral palsy, stroke, and spinal cord injuries
Trigger finger
Tendinitis of elbow, wrist, and hand
The team of doctors is skilled in treating patients of all ages. The department further specializes in arthroscopy, dealing with sports and spinal injuries and trauma recovery along with replacement surgery of the shoulder, elbow, ankle, and foot. The skilled team comprises highly talented anesthesiologists, orthopedic surgeons, rheumatologists, rehabilitation experts, and trained nurses to assist the patients with a speedy recovery. The department ensures that the patient receives the best care and maintains good health.
A child's musculoskeletal problems are different from those of an adult. Because while children are still growing, their body's response to injuries, infections, and deformities may be quite different than what it would be seen in a full-grown person. Many of the problems children have with their bones and joints do not even occur in adults. And, for the same problem that an adult might have, the evaluation and treatment are usually quite different for a child. Paediatricorthopaedic surgeons know how to examine and treat children in a way to helps them be relaxed and cooperative.
The Department of Paediatric Orthopaedics have experts treating multiple conditions ranging from simple fractures to intricate hip and spine deformities. Paediatric Orthopaedic Department also attends to problems related to Fractures and Sports-related injuries, Limb Reconstruction & Deformity Correction, Hip conditions, Clubfeet, Brachial Plexus. Children with complex pediatric problems such as cerebral palsy and Spina Bifida are best managed by a combined medical-surgical team approach.
The department aims at providing personalized care for our patients. Our team is very much experienced in examining and managing the children in a way that allows them to be calm and relaxed. The team also promotes and is an expert in offering Rehabilitation Facilities for all adolescents and children as well as the ones with developmental and physical disabilities in order to make their recovery process quick and successful.
Who is a Paediatric Orthopaedist?
The Paediatric Orthopaedist is highly trained and experienced in rendering accurate diagnosis and treatment of bone, joint, and muscle (musculoskeletal) problems in new-born and children who are still in a growing stage.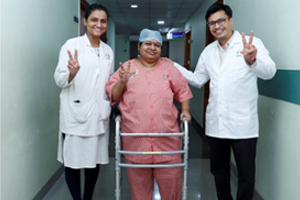 Keeping your health under constant vigilance is important to live a stress-free life.
Having the best doctors to treat you for the health issues you face, provides relief like no other.
You can simply sit back, relax, and be assured of complete healing, through the efforts of accomplished medical practitioners.
With a team of the best Orthopedicians providing excellent treatment at AIMS Hospital, you can rest assured of complete recovery from your bone and joint problems.
Joint Replacements
Total Hip Replacement
Total knee replacement
Total shoulder replacement
Total elbow replacement
Wrist replacement
Hand joint (small) replacement surgery
Ankle Joint Replacement
Minimally Invasive Knee Replacement Surgery (MIKRS)

Arthroscopic Surgery
Hip Arthroscopy
Keyhole surgery for disorders of the knee, shoulder, elbow & ankle
Trauma & Fracture Surgery
Management of open fractures
Correction of deformities
Fusion of joints
Meniscal Repair

Arthritis Care
Osteoarthritis
Rheumatoid Arthritis
Infective Arthritis
Traumatic Arthritis

PaediatricOrthopaedics
Congenital limb and spinal deformities correction
Bone & joint infections management
Juveline arthritis management
ACL stands for Anterior cruciate ligament and ACL Reconstruction refers to a type of surgery to replace the important ligament i.e. the anterior cruciate ligament (ACL) in the patient's knee. ACL injuries are the ones, which usually occur while playing sports especially the sports including quick direction changes, jumps, fast running and sudden stops e.g. volleyball, soccer, basketball, hockey, skiing, and football. These injuries happen when the ACL gets stretched and is resultantly teared off. ACL is an essential part of the knee as it helps in binding and keeping the knee stable. It is present between the tibia and the femur bones and prevents the slipping of the tibia. Its main function is to provide complete strength to the knee when the knee moves from one side to the other side. Damaging the ACL may result in discomfort or difficulty in playing sports, walking, jumping or running. Injury of ACL may take a lot of time to heal and requires continuous doctor consultations and physiotherapy. If the ACL damage is severe, the doctor will advise getting the ACL replaced through a surgical process especially in athletes and young people.
Arthroscopy is a surgical procedure performed by Orthopedic Surgeons to view, diagnose and treat joint problems. The term Arthroscopy simply means 'to look inside the joint.' Arthroscopic surgery has revolutionized the diagnosis and management of joint problems. Initially used only as a diagnostic tool prior to open surgery, the availability of better instruments and techniques has encouraged the use of arthroscopy for treating a variety of joint problems, avoiding complicated surgeries and longer recovery. In fact, except for joint replacement and major intra-articular fractures, all other problems involving the hip, knee, ankle, shoulder, elbow, and wrist joint can be treated with arthroscopic surgery.
Advantages of Arthroscopic Surgery?
Some of the advantages of arthroscopy compared with traditional open surgery include:
Less post-operative pain
Faster recovery time
Quicker return to function
Lower risk of complications
What is Knee Replacement?
Knee replacement is a surgical procedure most often performed to relieve the pain and disability and restricted mobility arising out of degenerative arthritis. Major causes of debilitating pain include meniscus tears, osteoarthritis, rheumatoid arthritis, post-trauma, ligament tears, and cartilage defects. Primarily there are two kinds of Knee replacement surgeries i.e. TKR (Total Knee replacement) and UKR (Unicondylar / Partial Knee Replacement). Knee Replacement surgery can be performed as a partial or a total knee replacement.

Partial Knee Replacement (PKR)
Partial knee replacement, also called 'unicompartmental knee arthroplasty or unicondylar knee arthroplasty' is a surgery that may be considered for treatment of osteoarthritis of the knee joint where the complete knee joint does not require replacement. Traditionally, patients have undergone total knee replacement for severe arthritis of the knee joint. In a total knee replacement, all cartilage is removed from the knee joint, and a single metal and plastic implant (prosthesis) is substituted.
Total Knee Replacement (TKR)
In a Total Knee Replacement procedure, the surgeon removes damaged cartilage and bone from the surface of the knee joint and replaces them with metal and plastic. In Total Knee Replacement, the surgeon replaces three parts of the knee joint.
The two parts of the prosthesis are placed onto the ends of the femur, tibia, and undersurface of the patella using special bone cement. Usually, metal is used on the end of the femur, and plastic is used on the tibia and patella for the new knee surface. However, surgeons are now using newer surfaces, including metal on metal or ceramic on ceramic.

Situations when TKR is helpful
Pain that limits activities such as walking, climbing stairs and getting in and out of chairs, or even moderate or severe knee pain at rest.
Restricted knee function or mobility, such as chronic knee stiffness and swelling that prevents one from bending and straightening the knee.
Failure of other methods to improve symptoms, for example, resting, weight loss, physical therapy, a cane or other walking aid, medications, braces, and surgery, but they've failed.
Knee deformity, such as a joint that bows in or out.
Hip Replacement is a treatment modality when other pain management therapies fail to provide relief from the arthritis of the Hip. Hip replacement is a surgical procedure in which the hip joint is replaced by a prosthetic implant. Such joint replacement surgeries are generally conducted to relieve pain due to arthritis or severe physical joint damage as part of the hip fracture. After the Hip Replacement surgery, one gets back all motions that one may need to carry out daily tasks. It is also referred to as Total Hip Arthroplasty or Total hip replacement. The Total Hip Replacement procedure enables restoration of the natural gliding motion of the joint.

Why THR?
Osteoarthritis of the hip joint is the most common reason for people opting in favor of Hip Replacement surgery. Hip Replacement is an option worth considering if there is severe pain, loss of motion, or deformity of the hip joint. Hip replacement is also used in people with hip injuries, rheumatoid arthritis, and other medical conditions, such as a bone tumor or bone loss due to insufficient blood supply (Avascular necrosis).
Symptoms requiring hip replacement
Pain that keeps one awake at night
Little or no relief from pain medications
Difficulty walking up or downstairs
Trouble standing from a seated position
Having to stop activities such as walking, because of pain.
Earlier Hip replacement was an option primarily for adults aged 60 and above. But rapid improvements in medical technology have made strong and longer-lasting artificial joints easily available that are suitable for even active and younger people.
In today's time, increased traffic, better roads, and faster life are leading to increased incidents of accidents and increased severity of injuries. Such accidents occur mostly in young adults between 20 – 35 years and may lead to disability and death. The initial first hour after an accident is called the 'Golden Hour.' If an accident victim is treated properly in a well-equipped Trauma center during this period, it may save the life and give a better quality of life after recovery.

AIMS Hospital has a dedicated Trauma Care Centre with state-of-the-art tertiary care treatment facilities.
Fully equipped Trauma Resuscitation Bay
24 x 7 State of Readiness for emergency life-saving procedures
Ventilators, Defibrillators & Portable X-Ray in Emergency Room
CT Scan and USG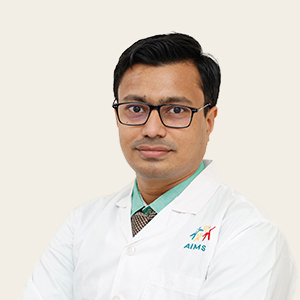 DR. VISHAL LAPSHIA
ORTHOPEDIC, JOINT REPLACEMENT & ARTHROSCOPY SURGEON
M.S. (Ortho), D.N.B. (Ortho), M.N.A.M.S., Fellowship in Arthroscopy & Sports Medicine

View details Appointment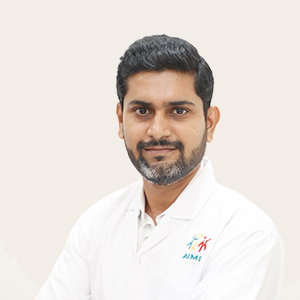 DR. NILESH HIREKHAN
ORTHOPEDIC, JOINT REPLACEMENT & ARTHROSCOPY SURGEON
M.S. (Ortho), Fellowship in Arthroscopy and Sports Medicine & Joint Replacement Surgery

View details Appointment