Critical care or Intensive care is a crucial medical specialty caring for patients who are critically ill. They may require support for instability (hypertension/hypotension), airway or respiratory compromise (ventilator support), acute renal failure, cardiac arrhythmias, or the cumulative effects of multiple organ failure, more commonly referred to now as multiple organ dysfunction syndromes. Patients needing intensive/invasive monitoring, such as in the crucial hours after major surgery or patients who are considered too unstable to transfer to a less intensively monitored unit may also be placed in the intensive care units.
Critical care specialists at AIMS Hospital are dedicated to ensuring the survival of the most critically ill patients. Trained in the best of institutions around the world, these dedicated specialists work 24 X 7 to revive critically ill patients. They also manage critical care units efficiently, ensuring that the whole team of doctors, nurses, and paramedics work together, using strict protocols to minimize infections, complications and ensure a speedy recovery.
The department of critical care medicine at AIMS Hospital is a combination of many specialties and technologies, offering the possibility of survival to patients who are acutely and critically ill. ICU management at AIMS Hospital is based on the fact that the methodical organization of Critical Care services influences important overall outcome measures such as mortality, length of stay, and infection rates. Our 24-hour critical care units comprising of 50 beds are a combination of multidisciplinary ICUs as well as ICUs dedicated to post-cardiac surgery patients, stroke patients, post-transplant patients, as well as special ICUs for neonates and pediatric cases. AIMS Hospital has redefined intensive care medicine through its medical expertise and state-of-the-art infrastructure, establishing its services as the best critical care services.
At AIMS, a lot of emphasis is also placed on areas like nurse's training, standardizing care through clinical pathways, and the identification of ethical and economic issues pertaining to Critical Care making it one of the best critical care hospitals.
The Critical Care Unit here is a multidisciplinary unit where patients with medical, cardiac, or surgical problems are managed. The primary goal of the CCU is to provide high-quality care to patients with critical illnesses. Members of the Critical Care team closely communicate with the primary consultants and provide appropriate care. These tasks are carried out with precision, synchronization, and coordination of a multidisciplinary team in ICUs with unwavering commitment and teamwork. The Physicians are highly skilled and specialized in diverse specialties of Medicine and Surgery. Nursing care is focused to meet the psychological, physical, and emotional needs of the patient. The ICU's unique design enables the nursing and physician staff to have a full view of virtually all patients at all times. Each of the 50 beds has state-of-the-art technology that enables staff to monitor patient's vital signs continually.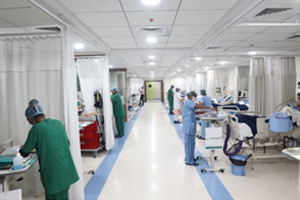 Infection Controls
Our infection control protocols pertain to a wide spectrum of interventions & have been developed jointly with intensivists& anesthetists
ICUs – high-risk areas for patients where life-threatening mistakes & omissions in care can occur
A checklist of care should be addressed daily
Critically ill patients are highly vulnerable to health care-associated infection, resulting in significant morbidity & prolonged length of hospital stay
Responsibility of every member of the health care team to ensure compliance with hospital and unit infection control policies – like hand-washing before & after examining a patient, use of alcohol hand rubs, use of sterile barriers & disposable gloves, safe disposal of all sharps & patient consumables & traffic control
Bedside Analysis – checklist use has reduced ALOS & improved infection control indices

Clinical Handovers
A standardized procedure for clinical handover
enhances patient's safety by providing vital information at a glance to the care providers
enhances the ability to attend staff members to identify potential sources of the problem
Transfer of care from physician to physician or nurse to nurse in case of change of location or change of shifts
Includes accurate information about
Patient's care
Treatment & Services
Verbal order
Test results
Current condition
Recent or anticipated changes
Medical and Surgical ICU
Cardiac and Cardiothoracic ICU (for Cardiac patients, including patients with Myocardial infarction, Acute coronary angina, Acute Pulmonary Oedema, Post Cath, and Post PTCA).
Pediatric ICU
Neuro ICU
High Dependency Unit
Neonatal ICU
Burns Unit
Transplant ICU
Physicians are the best primary screening personnel and this has been practiced at AIMS since its conception. With the most experienced and leading senior physicians working under one roof, AIMS has a lot more to offer than mere treatment of the disease.
Apart from accurate diagnosis, timely intervention, and management of an underlying complication, we focus on the patient's comfort, education about the underlying diseases and the various modalities of treatment as well as the patient's choice of treatment.
Routine medical cases, as well as emergencies, are very efficiently handled by the physician leaving no stone unturned to diagnose and treat the condition. We have 24hrs pathology and radio-diagnostic services to aid in the expert management of patients.
AIMS Hospital has all super-specialty consultants- Neurologist, Nephrologists, Cardiologist, Pulmonologist, Oncologist, CVTS, Endocrinologist, Hematologist, Gastroenterologist, Rheumatologist. ICU at AIMS hospital has all the latest technology to handle complicated cases. ICU has ventilators, ICU- Dialysis machines, NIBP, Intra-arterial BP, Monitoring, CVP monitoring, IABP (Intra-Aortic Balloon Pump) facilities. Being a tertiary referral centre, we offer advanced care, unavailable in nearby localities.
As pioneers of Emergency care services, the Emergency Care center at AIMS Hospital assures you the highest levels of skill, expertise, and infrastructure. The protocols at our 24-hour emergency service and trauma care department are designed to respond quickly and have proven outcomes that are on par with the very best. We actively leverage our multi-specialty prowess to deliver the crucial edge in emergency care.
At an AIMS Emergency Room, there is always easy and swift access to the best trauma surgeons capable of performing cutting-edge procedures.
We have Full Time Consultants team of cardiologists, neurologists, neurosurgeons, and trauma specialists who are on 24×7 standby for expert care during a medical & trauma emergency. At AIMS emergency Centre, one can be assured of receiving globally benchmarked medical assistance as the team's singular focus is to help patients get better, faster establishing it as one of the best emergency and trauma centre in the region. The Ambulances are also well equipped and manned by trained personnel.
AIMS Hospital also has a dedicated Stroke Physician-led team to manage strokes and a cardiologist 24 x 7 to manage heart attacks. We also track several important metrics to ensure that the care process is smooth and efficient every single time.

Some of these are:
Door to triage happens in less than 5 minutes
Access to neurologists, & neurosurgeons within 15 minutes, to assess a stroke
Door to Cathlab time in 20 minutes in stroke
A legacy of expertise in Emergency Care
Emergency access number – 7506274959

Clinical Team:
In a medical emergency, your best hope for recovery would be to get treated by the best of doctors. The emergency center at AIMS Hospital is managed by doctors specializing in Trauma care and they provide cutting-edge treatment for all kinds of medical emergencies. The doctors at the Emergency centre ensure quick diagnosis and treatment for patients with their unsurpassed expertise and knowledge. With state-of-the-art technology, our emergency care specialists make the life-saving difference for many.
Overview:
Extracorporeal membrane oxygenation (ECMO) is an effective technique to provide emergency mechanical pulmonary and circulatory assistance for patients with cardiogenic shock or respiratory failure refractory to conventional medical therapies. It has been successfully used as a bridge to heart and lung recovery, heart transplantation or the implantation of a Left Ventricular Assist Device (LVAD).

What is ECMO?
Extra-Corporeal Membrane Oxygenation (ECMO) is a life-saving advanced intensive care technology that is used when a child/adult has a condition which prevents the lungs or heart from working properly. It is very similar to a heart-lung bypass machine used for open heart surgeries.
It involves a machine that will take over the work of the heart and lungs (modified heart – lung machine in ICU) until they get better. It is used only when all other therapies fail or stop working. It can support the patient for days to weeks.

Who should be considered for ECMO?
Acute Respiratory Distress Syndrome (ARDS) secondary to pneumonia, aspiration, severe air leak
Refractory Septic / Cardiogenic Shock
Myocarditis – viral, scorpion sting
Post Arrest shock
Before or after cardiac surgery
Meconium Aspiration
Congenital Diaphragmatic Hernia
Persistent Pulmonary Hypertension
Poisoning

When should ECMO be considered?
It should promptly be considered in patients with life threatening Respiratory or Cardiac Failure that does not respond to conventional intensive care management. Patients who benefit from ECMO have a reversible condition.

Is ECMO safe?
The devices and circuits used for ECMO have changed over the years and safer material are being now used which are also long-lasting preventing frequent change of circuits. This was a common problem in the past due to complications such as bleeding and increased need of blood products. These problems have now been minimized to a great deal and the implementation of ECMO is also now much safer in skilled and trained hands, thus, reducing procedure-related complications in experienced units.

ECMO team
Managing a patient on ECMO is a multidisciplinary team effort. The team consists of:
Cardiac surgeon
Cardiac Anaesthesiologist
Intensivist
Cardiologist
Perfusionist
Cardiac Nurse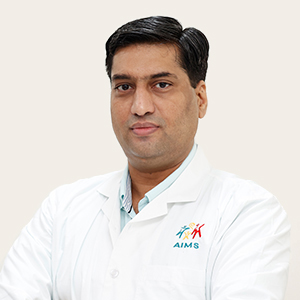 DR. SANDEEP KADIAN
INTENSIVIST, GENERAL PHYSICIAN & CHEST PHYSICIAN
M.D., I.D.C.C.M, P.G.C.D.M., C.C.I.D.C.

View details Appointment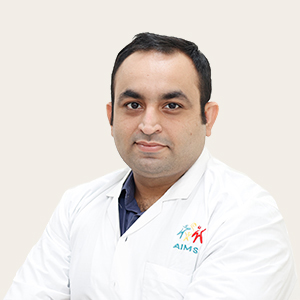 DR. SHAISHAV BHANUSHALI
GENERAL MEDICINE & INTENSIVIST
M.D. (Medicine)

View details Appointment