AIMS Hospital has performed a multitude of treatments and procedures in cardiology and cardiothoracic surgery.
Our team of cardiologists and cardiothoracic surgeons is highly trained and is completely dedicated to the treatment of heart diseases. Our pioneering work for the prevention and treatment of cardiac diseases has led to the achievement of better outcomes and improved quality of life for thousands of cardiac patients who visit us each year with complex heart problems. Our advanced infrastructure supports the complex nature of the cardiac care provided. Third-generation Cath Lab, Cardiac Critical Care Units, and Intensive Care Units support our experienced cardiologists and post-operative care teams, making us the most sought-after Cardiology hospital.
We have vast experience in the most complicated coronary artery bypass surgery, surgery for all types of valvular heart diseases, pediatric heart surgery with success rates comparable to international standards. We have been ranked among one of the best hospitals in Cardio Sciences in the Mumbai region through various prestigious surveys. Our cardiologists are pioneers in Coronary Artery Stenting, Laser Angioplasty, and techniques as advanced as Percutaneous Transluminal Septal Myocardial Ablation. In addition, this center has special programs that offer minimally-invasive valve replacement, i.e., key-hole surgery, beating heart coronary artery bypass grafting, and awake cardiac surgery.

Comprehensive Cardiac Care
State-of-the-art Operation Theatres & Cath lab
Primary emphasis on Angioplasty in golden hour
Angiography and Angioplasty
128 slice Cardiac CT Scan
CABG & Valve Replacement
Pacemaker
Trans Esophageal Echocardiography (TEE)
Fetal &Paediatric 2D Echo
Holter Monitor
Dobutamine Stress Echo (DSE)
ECMO
Stress Test
Diagnosis & treatment of health conditions related to heart, lungs, and chest cavity
Surgical interventions that are performed to treat heart ailments are commonly known as cardiac surgery. The renowned team of the Cardiothoracic Vascular Surgery Department (CTVS) specializes in diagnosing and treating various complex and difficult-to-treat cardiothoracic disorders with perfection. Some of the common heart surgeries performed by the team include–
Aortic Surgery - Carried out to repair/replace aortic aneurysms & dissections
Aortic Valve Surgery is performed to repair or replace the aortic valve. The surgery can be carried out in the following different ways:
Endoscopic
Non-Sternotomy
MAZE Procedures for AF
Arrhythmia surgery - A surgical procedure to correct irregular heart rhythms such as atrial fibrillation or ventricular tachycardia.
Corrective surgery to fix or treat a genetic heart defect or congenital heart surgery.
Coronary Artery Bypass Graft (CABG) - Commonly known as Heart Bypass Surgery/ Coronary Bypass surgery, is a surgical procedure that creates alternate routes for blood to flow to the heart tissue, bypassing the narrowed/blocked arteries (leading to what is known as Coronary Artery Disease). For the procedure, a healthy blood vessel (also called a graft) is taken from one area of the patient's own body and is placed around the narrowed/blocked area to restore blood flow to the heart. The goal of this procedure is to relieve symptoms of coronary artery disease (including angina), enable the patient to resume a normal lifestyle, and to lower the risk of a heart attack or other heart problems.
Surgery for heart failure
LVAD or Left ventricular assist device - A device that aids in the pumping function, thereby circulating blood inside the body.
Left ventricular remodeling /surgical ventricular restoration – This is a technique that provides the heart with a more normal shape post a MI, allowing the heart to pump blood efficiently.
Heart transplant - A surgery to treat end-stage heart failure - a condition that occurs when the heart can't pump enough oxygenated blood to meet the needs of the body's organs.
Awake heart surgeries (on or off-pump cardiac surgeries under high thoracic epidural without general anesthesia)
Cardiothoracic and vascular procedures/surgery
Bypass surgery
- Off-pump
- Keyhole
Major Aortic Cardiac Aneurysm Surgeries
Minimal access aortic arch replacement
Aortic surgery
- Hybrid
- Endovascular aortic surgery
At AIMS, we are equipped with dedicated Cardiothoracic ICUs with up to a 1:1 nursing ratio, 24X7. Each ICU is equipped with the following facilities:
Color Doppler system
Echocardiography (ECG) system
Continuous oxygen supply
Infusion pumps
Defibrillator
Ventilators
Pressure monitoring systems
Temporary pacemaker both transdermal and transvenous
Intra-aortic balloon pump
ABG (Blood Gas machine)
Electrolytes analysis machines
Expert treatment of heart-related disorders with the minimally invasive procedure to approach
Interventional cardiology is a non-surgical branch of Cardiac sciences wherein the procedure is performed with the help of a catheter – a flexible and small tube. These types of procedures are utilized to fix or repair weakened or damaged blood vessels, clogged arteries, or other affected parts in the heart structure. The Team specializes in rendering various interventional services with superlative quality services and utmost care. Some of the common conditions treated by the department are as mentioned:
Coronary artery disease: A narrowing of the arteries which supply the heart muscle with blood and oxygen.
Heart valve disease: Occurs when the valves which control blood flow into the heart's chambers are not working correctly.
Peripheral vascular disease: The heart can also be affected by clogged or hardened veins and arteries that are in other parts of the body.

Interventional cardiology procedures performed at AIMS include:
Angiography and Angioplasty of arteries of neck, leg, arm, and kidney
Heart failure device and AICD implantation
Coronary Angiography, Angioplasty, and Stenting
ASD, VSD, PDA device closure
Permanent Pacemaker (Single and Double Chamber)
Endovascular aneurysm repair
The department of Cardiac sciences deals with the study of the heart and its blood vessels. The cardiac sciences team consists of diligent and dedicated Cardiac surgeons, Cardiologists, Interventional Radiologists, Cardiothoracic Surgeons, and highly trained nurses. The team ensures to deliver excellent services for the patients suffering from heart diseases along with proper monitoring, accurate diagnosis, management, treatment, and rehabilitation services. The highly skilled team of cardiac surgeons focuses on treating its patients with utmost care and expertise. The team specializes in performing various invasive cardiac surgeries with perfection some of which are as mentioned:
Mitral valve repair and replacement
Atrial septal defect and patent foramen ovale closure
Maze procedure for atrial fibrillation
Aortic valve replacement
Thoracotomy
Tricuspid valve repair and replacement
Coronary artery bypass surgery

These procedures are invasive procedures and are performed with the help of the latest and advanced techniques such as laparoscopic or robotic. This new advancement in the field of cardiac sciences has resulted in scar-less surgery along with minimal blood loss, less tissue trauma, speedy recovery of the patient, and lower risk of infections. The team ensures to render quality and superlative care to all its patients irrespective of their age group.
Diagnosis and treatment of heart related disorders using pathology and radiology testing
The branch of Non-Invasive Cardiac Sciences deals with a variety of cardiac procedures and is involved in detecting and treating the problems without using any fluids, injections, or any type of body piercing instruments. The team specializes in providing crucial diagnoses and early treatment options to patients of all age groups. The services offered by the department are superior in quality and are available for both outpatients and inpatients. Some of such services provided are as mentioned:
Stress Echocardiogram
Transoesophageal Echocardiogram (TEE)
Dobutamine Stress Echocardiogram (DSE)
CT Angiography
Exercise Stress Test with Nuclear Imaging
Implantable Cardioverter/Defibrillators and Pacemaker Interrogation
Heart monitors/Holter monitor
The team is an expert in using the finest and efficient technologies to ensure complete patient comfort, safety, and satisfaction. The accurate diagnosis and dedicated treatment of various cardiac problems by the expert team help save the lives of many patients due to early management of the disease.
AIMS has a specialized and dedicated multi-disciplinary team of paediatric cardiologists including paediatric intensivists, anaesthesiologists, and paediatric surgeons. The team is extremely dedicated to working towards child cardiac care. Several new and efficient cardiac techniques have been pioneered for children by the paediatric team. The department caters to extensive echocardiographic work related to children and focuses on the early detection of various cardiac disorders in unborn babies using specialized echocardiography techniques. The team specializes in managing cardiac diseases at the time of birth along with other congenital defects, some of which are mentioned as under:
Cardiac valve disorders
Atrial or ventricular septal defects
Patent Ductus Arteriosus
Hypoplastic Left Heart Syndrome
Blue Baby Syndrome which is caused by Tetralogy of Fallot
Displacement of the aorta
Congenital cardiac defects which might have some life-long effects on the health of the child
The doctors are highly qualified and use the latest technologies with minimally invasive techniques for scar-less surgery and fast recovery. We ensure compassionate care and safety of our patients
Diagnosis and treatment of arterial, venous, and lymphatic systems
The department of Vascular surgery deals with diseases of the vascular system which includes the blood vessels- veins, arteries, and lymphatic system. The highly skilled vascular and endovascular surgeons treat various types of blood vessel problems and lymphatic system conditions (vascular diseases) fully to restore the maximum health and well-being of all aged patients. The extensive experience and expertise, coupled with the team approach and research prowess enable the team to deliver successful treatment outcomes each time. Some of the common procedures performed by the team are as follows:
Arm Artery Disease
Aortic Dissection
Abdominal Aortic Aneurysm
Connective Tissue Disorder (CTD)
Chronic Venous Insufficiency
Portal Hypertension
Giant Cell Arteritis
Deep Vein Thrombosis
Peripheral Arterial Disease
Vascular Infections
Varicose Veins
Vascular Trauma
The team ensures to treat all patients with quality care by using advanced techniques to help them recover faster.
Surgeries for treatment of complications caused by the dilatation of the aorta (aortic aneurysm), problems caused by irregular heartbeat (arrhythmias – such as atrial fibrillation), heart failure, Marfan syndrome – a genetic disorder that causes cardiovascular abnormalities and other less common conditions are performed extensively.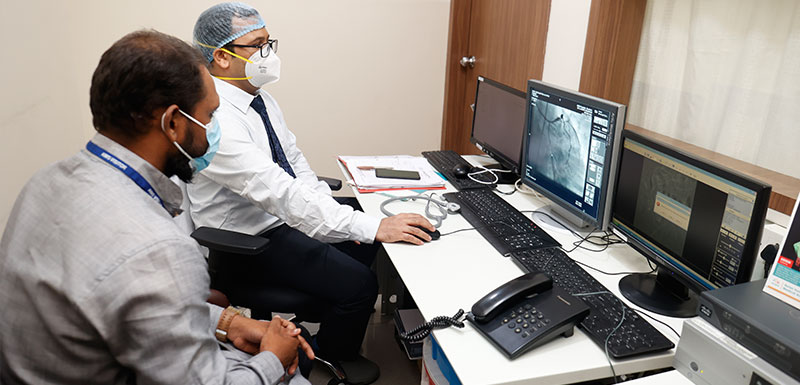 What is a Cath Lab?
The Catheterization Laboratory or Cath Lab is an examination room in a hospital or clinic with diagnostic imaging equipment used to support the catheterization procedure.
A catheter is inserted into a large artery, and various wires and devices can be inserted through the body via the catheter which is inside the artery.
The Cath Lab is well equipped with the advanced Siemens Machine. The Hospital is having a team of highly qualified and experienced Cardiologists and Intensivists.
Applications of Cath Lab for various Procedures: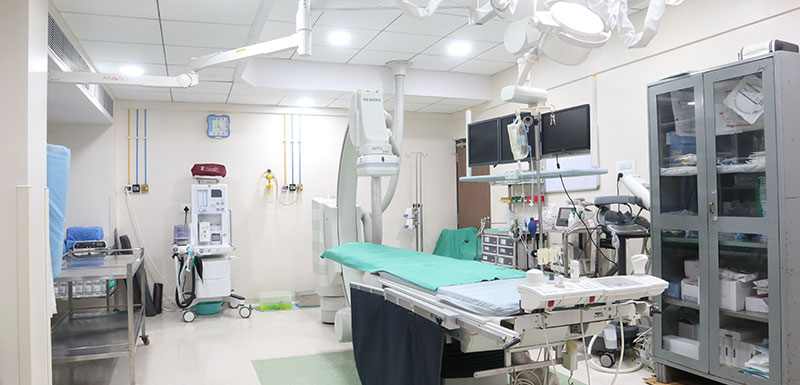 Cardiac Procedures:
Coronary catheterization is a minimally invasive procedure to study the status of the blood vessels of the Heart and to repair them in case of obstruction or clot leading to a Heart Attack.
Most Cath lab procedures are performed under local anesthesia.

Neuro (Brain) Procedures:
An angiogram of the Brain (Carotid angiogram) is done to study the large arteries that supply blood to the brain in the patient suffering from Stroke/Paralytic Attacks.

Procedures Conducted in Cathlab:
Coronary Angiography
Coronary Angioplasty
ASD/VSD closure
Permanent / Temporary Pacemaker implantation
Carotid Angiography / Angioplasty (for Brain)
DSA (Digital Subtraction Angiography)
Renal Angiogram
IVC Filter
Peripheral Angiogram / Angioplasty
Biliary Stenting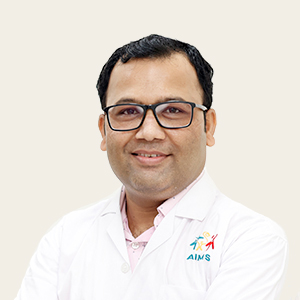 DR. LAXMAN GAIKWAD
INTERVENTIONAL CARDIOLOGIST
M.D. (General Medicine), D.M. (Cardiology)

View details Appointment


DR. ARVIND SINGH GAHLOT
CARDIOVASCULAR & THORACIC SURGEON
M.Ch.(CVTS), M.S. (Gen. Surgery)

View details Appointment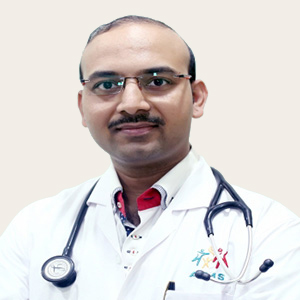 DR. NITIN GUNDRE
CARDIOVASCULAR & THORACIC SURGEON
M.S., M.Ch. (CVTS)

View details Appointment